Navitas for change
Based in Spain, Navitas for Change is specialized in accompanying people and organizations in their processes of change and cultural transformation, allowing them to adapt and thrive in highly demanding and changing business environments.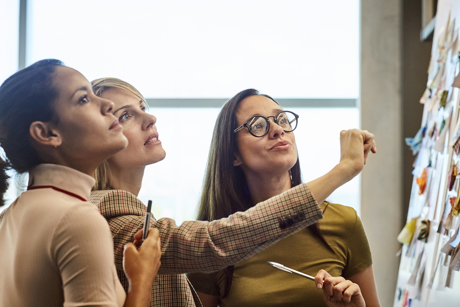 We are a group of professionals, from different generations, with years of experience in sectors as diverse as pharmaceuticals, banking, administration or legal, and also with a diversity of areas of knowledge, such as human resources, digital marketing, commercial, network security and others.
We share the same values:
commitment to excellence
passion for people
promoting diversity, sustainability and inclusion
integrity in every action we take.
Also, we share the same way of understanding reality, which can be summarized in that the best way to predict the future is by inventing it. We want to accompany our clients in the invention of their future, the one in which they wish to live, providing it with a layer of the best practices in leadership and people management, development and management of talent, cultivation of psychological safety and positive relationships within the organization, sustainable relationships with customers and contribution to society.
If you are looking for:
improve the productivity of your organization and, in turn, enhance health and well-being.
break silos and hierarchical levels
guarantee generational renewal in the family business
transform the culture of the organization towards a more diverse and sustainable model.
Increase the psychological safety of teams.
Develop resilient teams.
At Navitas for Change we will be happy to hear from you.
To carry out our mission we need energy of the best quality, hence our name "Navitas for Change". We train the entire organization in the strategic use of energy, because energy is neither created nor destroyed, it is only transformed.
We invite you to visit our website: www.navitasforchange.com, where you can meet the team and the main services we offer, grouped into 4 areas: Consulting, Development, Wellness and Coaching. Do you want to talk about your Project? We will be delighted to hear from you.
Navitas for Change is a Partner of The Fearless Organization Scan, being an accredited provider of Psychological Safety Development Programs in Spain and Latin America.
Ubicada en España, Navitas for change está especializada en el acompañamiento a las personas y a las organizaciones en sus procesos de cambio y de transformación cultural, que les permitan adaptarse y prosperar en entornos de negocio altamente demandantes y cambiantes.
Somos un grupo de profesionales, de diferentes generaciones, con años de experiencia en sectores tan diversos como el farmacéutico, la banca, la administración o el jurídico y, también, con diversidad de áreas de conocimiento, como recursos humanos, marketing digital, dirección comercial, seguridad en la red y otros.
Compartimos unos mismos valores:
el compromiso con la excelencia
la pasión por las personas
la promoción de la diversidad, la sostenibilidad y la inclusión
la integridad en cada acción que emprendemos.
También, compartimos una misma forma de entender la realidad, que se puede resumir en que la mejor manera de predecir el futuro es inventándolo. Queremos acompañar a nuestros clientes en la invención de su futuro, aquel en el que desean vivir, dotándolo de una capa de las mejores prácticas en liderazgo y gestión de personas, desarrollo y gestión del talento, cultivo de la seguridad psicológica y de las relaciones positivas dentro de la organización, relaciones sostenibles con los clientes y contribución a la sociedad.
Si buscas:
mejorar la productividad de tu organización y, a su vez, potenciar la salud y el bienestar.
romper silos y niveles jerárquicos
garantizar el relevo generacional en la empresa familiar
transformar la cultura de la organización hacia un modelo más diverso y sostenible.
Aumentar la seguridad psicológica de los equipos.
Desarrollar equipos resilientes.
En Navitas for Change estaremos encantado de escucharte.
Para llevar a cabo nuestra misión hace falta energía de la mejor calidad, de ahí viene nuestro nombre "Navitas for Change". Entrenamos a toda la organización en el uso estratégico de la energía, porque ésta ni se crea ni se destruye, sólo se transforma.
Te invitamos a visitar nuestra web: www.navitasforchange.com, en la que podrás conocer al equipo y los principales servicios que ofrecemos, agrupados en 4 áreas: Consultoría, Desarrollo, Bienestar y Coaching ¿Quieres hablar de tu Proyecto? Estaremos encantados de escucharte.
Navitas for Change es Partner de The Fearless Organization Scan, siendo un proveedor acreditado de Programas de Desarrollo en Seguridad Psicológica en España y Latinoamérica.