Fearless Leader Program
This program is for leaders wanting to develop the knowledge and skills to build Psychological Safety on their team and extend that knowledge to create learning and high performance. As a result, leaders can improve innovation, learning and team effectiveness with confidence.
This program provides practical tools in the form of meeting guides, reflective practices and frameworks needed to build inclusive teams oriented towards constant learning and growth. Our structure, the experiential learning, the curiosity, the questions asked, the idea of doing over memorizing, the support you receive -- it provides an effective way to make growth happen.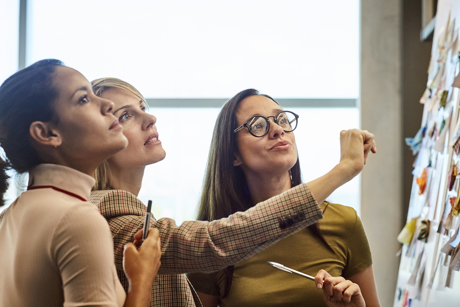 The Modules
Psychological Safety & Navigating Uncertainty - Leaders develop knowledge and awareness of psychological safety necessary to navigating an uncertain world and foundational to team performance. 
Courageous Leadership - Through a 360° assessment and guided reflection, leaders develop awareness of their impact and influence while growing their confidence and courage as leaders. 
Team Relationships - Leaders learn to grow and enhance the relationships which are critical for fostering psychological safety, inclusion, and accountability. 
Thinking in Systems - Leaders develop their knowledge of systems thinking while learning how to better communicate with their team and begin to share that knowledge with their team. 
Failure, Innovation & Learning - Leaders learn how to invite, prepare, and reframe conversations about failure to create an environment that is ripe for innovation and productivity. 
Accountability & appreciation - Leaders learn how to build on a foundation of psychological safety to create meaningful accountability and generate positive mindset through appreciation.
Anyone can apply to join our upcoming cohort or inquire regarding an in-company solution for scalable leadership development
| Partner | Start date | Number of sessions | Start time | Time zone | Location | Target audience | |
| --- | --- | --- | --- | --- | --- | --- | --- |
| ARISTOTLE PERFORMANCE | Sep 08 2022 | 6 | 13:30 | PST | Online | Leader | Inquire |